visit C.L.I.F.'s microsite HERE =)
I first found out about this private screening from fellow blogger, Shiliang. He said Veron from Mediacorp had emailed him about it, given him some exclusive pictures, and told him only some bloggers were invited directly.
A few days later, baguatv blog posted this post: I wanna blog for Channel 8!
It was also on this same day that I received an email from Veron, who asked if I was interested in going for this exclusive premiere!
---
Date: Friday 20 May 2011
Time: 7.45pm
Venue: Sinema Old School at Mount Sophia
After an ardulous climb up what seemed millions of steps, we reached the venue!
Everyone was entitled to free popcorn from Cornery, and a bottled drink! Bloggers got an exclusive Channel 8 mouse!
What we were all waiting for...
The cinema was small, but very cosy. The seats were really comfortable; it really felt like you were lounging around on your sofa at home!
BLOGGERS GOT TO SIT IN THE 2 FRONT ROWS! We were like the press for the night =)
Fanclubs of Joanne Peh, Elvin Ng, Chris Tong and Rebecca Lim were present.
Ben Yeo was the host for the night. He appeared at 8.20pm and the event officially began.
The artistes came out and asked everyone to support the show. Tay Ping Hui, Chris Tong, Joanne Peh, Aileen Tan, Rayson Tan and Romeo Tan were present. They sat at the back, and the screening began...
Opening:
<iframe src="http://www.youtube.com/embed/j2MVDLcosb8" frameborder="0" height="349" width="425"></iframe></p>
It was definitely an enjoyable experience, as we watched, cheered, and got responses from the artistes, especially Tay Ping Hui (he kept going THANK YOU everytime we cheered when he did something herotic onscreen). The atmosphere was really great.
However, what irked me was the bad resolution of the drama. In action scenes, especially when characters were moving around very quickly, there was a visible lag, and the picture was pixelised.
More on the 1st episode later.
The artistes came back down to take photos and interact with the fans. Bloggers were given priority for photo-taking.
And the event ended. It was a great night for everyone, I'm sure!
More photos on flickr:
<p><iframe src="http://www.flickr.com/slideShow/index.gne?group_id=&user_id=49684511@N03&set_id=72157626647159241&tags=Cars,Lotus,Exige" align="middle" frameborder="0" height="500" scrolling="no" width="500"></iframe>
Created with Admarket's flickrSLiDR.
---
My First Impression:
This police show differs from previous ones, as 1) Action sequences are long and realistically filmed 2) There are tons of explosions and a lot of violence - cases involve tons of people (demonstrations and riots) 3) Many police vehicles are featured, and procedures in an operation are also concentrated on 4) Various aspects of the police force are focused on in detail and 5) Most of the scenes take place outside the office; Characters are often in the field.
The opening scene in Thailand was a bit slow and haphazard. It was necessary, but the dubbing annoyed me, and it somehow did not seem very realistic. I guess no one expects a riot to take place on a beach. And for the important dignitary to escape via boat, instead of a helicopter was also questionable.
I will watch the first episode again, on TV, and see if I have this same impression. Maybe the lagginess and pixelised picture were getting to me.
In the first episode alone, various departments of the police force were already focused on and many characters were already introduced. Chris Tong is the only one in the main cast who didn't appear in the first episode. Andie Chen, Romeo Tan and Rebecca Lim were supporting characters who also did not appear in the first episode.
What to expect:
Action - Steoreotypical scenes, like the one where Tay Ping Hui saved a kid from before an explosion took place was so predictable. But scenes where demonstrators wrecked havoc, and where a strike turned into a riot which are never seen on TV (except in the news) take prominence here. The police force shows off all their high-tech vehicles and capable commands operators.
Violence - In the first episode alone, there were 2 riots, and fighting ensued. I'm not sure if the team will encounter anymore in the later episodes, but it seems to be quite an important focus in this drama.
Suspense - Time ticking on bombs. Bombs are another important focus in this drama, and it is definitely realistic, with terrorism a threat in the world today.
Mystery - This is not a crime-series, where the team solves murder cases. However, identifying suspects and questioning their motives is another key focus. Some characters are mysterious too, like Qi Yuwu's character - it is only known that he is an orphan.
Comedy - Yes, it exists in this drama! Elvin Ng plays a super lazy cop who is forever yawning and wanting to slack on the job. I can't wait to see more.
Overall thoughts:
This drama is very promising. It promises to be the most realistic police drama ever made for local TV! I'm very excited to see how the police force showcase all their vehicles and equipment, and go through emergency procedures and such. It is no longer only about questioning suspects and detective work, so this drama promises to give viewers a different perspective of the police force.
As this drama also focuses on personnel from many different divisions of the police force, I'm curious to see how the plot ties them up, and develops their characters and relationships.
---
Many thanks to the team at Channel 8 for (finally) noticing my blog and for inviting me! I really enjoyed myself!
Do check out Shiliang's post- HERE.
More links from bloggers are compiled at a baguatv post- HERE.
*UPDATE* BaguaTV blog updated their post and featured an excerpt from this post: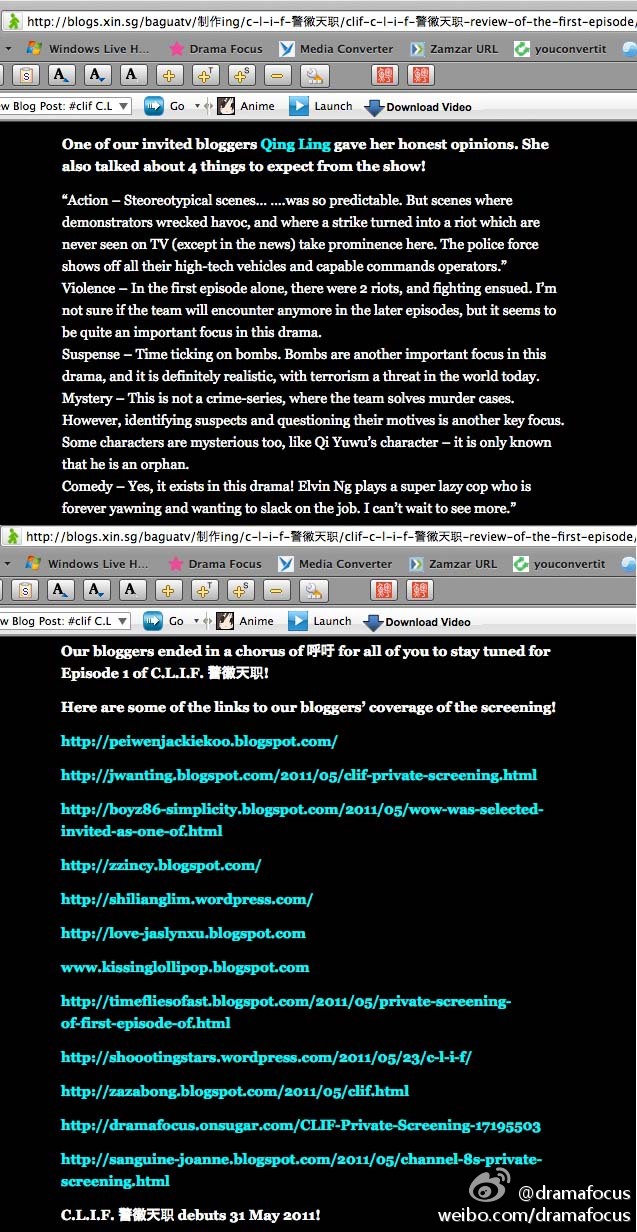 Thank you!! =)